If your media organization would like to request an interview with one of our CCARES administrators please feel free to contact us at
info@ccaresfoundation.org
to make media arrangements. Below are a few samples of local media coverage featuring CCARES and Hands-Only CPR.


New Educational Videos Produced by CCARES
CCARES has produced two educational videos, both for adults audiences and for school age audiences, about the basics of CPR in the community.
Below is the CCARES CPR video featuring adult level education on the implementation of CPR and the use of AEDS

Below is a video for use in educating school aged audiences in how they can perform CPR
CBS Covers CPR App

CBS2's Mike Parker reports how the new technology, which is already working in California, may be headed for Chicago.

The app alerts iPhone users who are trained in CPR that a cardiac arrest is under way and tells them where they can go to help the victim until an ambulance arrives. The system was recently put in place by the San Ramon Valley Fire Department.

An emergency room doctor from Northwestern Memorial Hospital in Chicago hopes to see the APP system working here before long.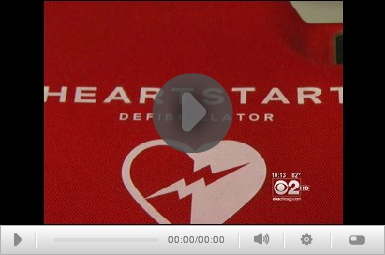 "I think it has the potential to save many lives," Dr. Amer Aldeen says.
Next week, two Chicago aldermen, Ed Burke and James Balcer, will be asking the City Council to call on the city's Fire Department and Office of Emergency Management and Communications to launch the CPR app here...
Read Full Story

»
---
Committee Considers CPR App
Chicago Alds. Ed Burke and James Balcer on Tuesday sat before the City Council's Public Safety Committee and asked them to consider embracing technology that could save the lives of those having a heart attack.
They got the idea from a video showing off a smartphone application that can notify users trained in CPR that someone nearby is under cardiac arrest.
"In the first few minutes of cardiac arrest or sudden cardiac death, those are the key few minutes, and really, bystanders who are trained in how to do chest compressions are really helping their fellow citizens," said Northwestern University's Dr. Amer Aldeen...